Check out the CCC Publishing channel on YouTube. Dozens of videos of original content.
Click Here for the Full CCC Publishing Catalog
CCC Publishing was selected as the Winner for the 2022 San Francisco Awards in the category of Publisher: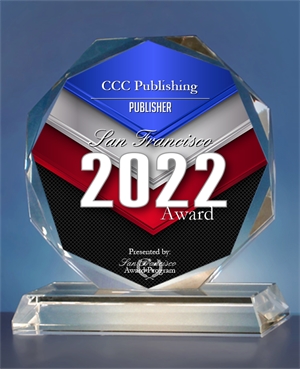 The Story of the CCC
The Consortium of Collective Consciousness began as an artist warehouse in February 1995 by Brad Olsen and three American travel friends who met in Goa, India the year before. From party play pad to publishing house, the CCC also morphed into many other significant projects and artistic interests, especially DJing. Our influence was "Goa Trance" electronic dance music, and some truly amazing dance parties were held in the CCC warehouse. Some popular DJs who played the CCC include Goa Gil, Ollie Wisdom, Bassnectar (when he was DJ Lorin), Kox Box, X-Dream, and Juno Reactor. Plus many former roommates continue to DJ, such as Cyril, Douglas, Fireheart, Tandava, and An-ten-ae (Adam O'Hana). Looking back, it is truly remarkable to recall all the activities and good times we shared in that funky warehouse on Howard Street.
The Consortium of Collective Consciousness was closed in May 2001 as a result of skyrocketing rents, plus a greedy landlord hoping to cash in on the first dot-com boom. He didn't cash in, but we were evicted nonetheless. And after all those years ago almost all who passed through keep in touch and remain really good friends.
Although we lost the warehouse space, we didn't lose the spirit we gained from the experience. Two projects Brad Olsen was directly involved with in the CCC warehouse days continue on to this day. They include the creation of the World Peace Through Technology Organization (WPTTO) and the group's main project, the annual How Weird Street Faire, held in April or May every year since 2000.
Various Projects of Brad Olsen
How Weird Street Faire is the hugely successful springtime street faire that started in front of the old CCC warehouse on Howard Street in San Francisco.
World Peace Through Technology is the nonprofit organization founded in 1999 by Brad Olsen, Michael "O" Rourke, and Justin Weiner.
Art Projects @ Burning Man: Brad is a huge fan of the Burning Man festival and has contributed with several art projects. 2010 was his 15th "burn." The shots are all from 200 and the late 1990s.
Articles: Most of the articles from Brad Olsen's column "Sacred Destinations" from Heartland Healing magazine.