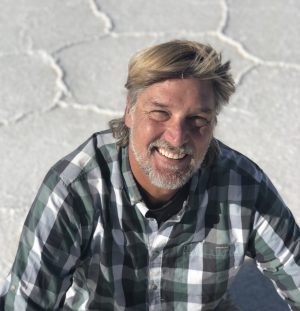 Brad Olsen's passion for writing goes far beyond his book publishing business or the online content he produces. His books have reached a wide audience across the country and around the world, and have won numerous awards. His work has been reviewed in top publications and he continues to lecture nationwide on various subjects. He has appeared on dozens of television and nationally syndicated radio shows over the course of two decades. Yet for all the fanfare, Brad Olsen likes to spend time with his friends and family, while attempting to be outdoors as much as possible.
Although the professional task of book publishing occupies most of his year, Brad Olsen is also the founder and event producer of the How Weird Street Faire in San Francisco, CA. Between writing online and print publication articles, new book chapters, and posting on social media, he also manages various websites, does marketing work, special sales fulfillment, administrative tasks, manages various projects with outsourced collaborators, and produces one of the largest festivals in The City. Wearing his publisher's hat, he makes the stated goal of only releasing only the kinds of books he would value owning himself, which incorporates thought-provoking and critical content, and with a wide appeal to readers. His book publishing business CCC Publishing is distributed by Independent Publishers Group.
Book Series
In a change of editorial direction, award-winning travel writer Brad Olsen announced the release of the Esoteric Series in early 2013, with the release of two books in two years. Future Esoteric: The Unseen Realms was released to many favorable reviews through CCC Publishing in paperback and all e-book formats. The second installment of the series, Modern Esoteric: Beyond Our Senses was released in March, 2014. Beyond Esoteric: Escaping Prison Planet came out in December, 2020. The website devoted to the book series is: www.esotericseries.com
Brad Olsen's critically acclaimed "Sacred Places: 108 Destinations" series added author Karen Tate in 2005 with her Sacred Places of Goddess title. The first book in the series Sacred Places: North America was released as a second edition in April, 2008 to rave reviews and a gold award for "Best Travel Book of the Year." Sacred Places Around the World was reissued as a second edition in February 2004, and the final book in the series was Sacred Places Europe: 108 Destinations, released March 2007. Both titles were nominated as "Travel Guide of the Year" by Foreword Magazine.
Brad is also the author/illustrator of the "Extreme Adventures" series of adrenaline-pumping guidebooks. Extreme Adventures Hawaii and Extreme Adventures Northern California were both released by Hunter Publishing in 1998. In July, 2005 he was interviewed for the television series on Outdoor Life Network's extreme sports series called "The World's Wildest Rides."
Media Spotlight
Brad Olsen was interviewed on the hit History Channel series "Ancient Aliens" on several episodes in in different seasons, and appeared on "America Unearthed" in January, 2015. His commentaries have appeared on Coast to Coast AM, National Public Radio, CNN, the X-Zone, Buzzsaw and the Travel Channel among other outlets. Brad enjoys public speaking on travel to sacred places, the mystery of esoteric subjects, and extended global explorations. He has also photographed and written the script for over two dozen Visual Travel Tours (uploadable travel guide podcasts).
Book Awards
Brad Olsen gained the distinction of "award-winning author" in February, 2010 when his travel guidebook Sacred Places North America: 108 Destinations (2nd ed.) won the Bay Area Travel Writers top gold prize award (First Place winner) for the "2010 Best Travel Book for the Planet Earth" category, and again the top prize in 2013 when his book Future Esoteric: The Unseen Realms took the winning category of "New Age" in the Pinnacle Book Achievement Awards. Modern Esoteric: Beyond Our Senses also placed first in "New Age" category of the 2014 Pinnacle Book Achievement Awards, plus Modern Esoteric won the top prize in 2014 for best book design by "Graphic Design Awards USA."
Publication Contributor
Brad is a travel writer for Perceptive Travel. He is also a Contributing Editor for World Explorer magazine. Brad Olsen has contributed to several Rough Guides titles, including the World Party guide. His articles have been published in Ancient American and he appeared on the cover of the SF Bay Guardian.
A Passion for Publishing
Brad Olsen has been a published artist since he was 14 years old. Starting in 1979 as a political cartoonist for his high school newspaper he continued his craft five years later at Illinois State University's college newspaper. His comic strip was renowned for its witty satire and biting criticisms. A decade later in 1995, he founded Consortium of Collective Consciousness Publishing in San Francisco, tCA. The company has produced 14 book titles including In Search of Adventure: A Wild Travel Anthology, featuring 80 different authors. Key to Solomon's Key: Is This the Lost Key of Masonry? by Lon Milo DuQuette, was released in the second edition in 2010. Brad's first book World Stompers: A Global Travel Manifesto, now in its fifth edition, was lauded by film director Oliver Stone as a "subversive masterpiece of travel writing" and Publisher's Weekly labeled it a "quirky chain pleaser." His travel website relating to the book (www.stompers.com) was Microsoft Network's "Site of the Week" and was ranked as a "Top 5%" Lycos site. CCC Publishing released The Tribes of Burning Man by Steven T. Jones in 2011, and the book won third place in the Sharp Whit contest for "Best Non-Fiction Book of the Year."