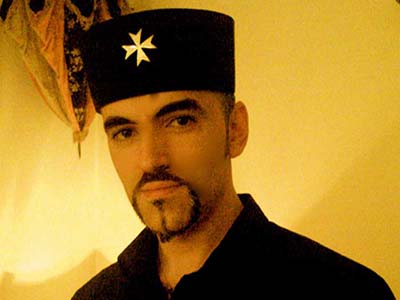 LEO LYON ZAGAMI decided in 2006 to walk out from what he perceived as the criminal side of the New World Order after three years of internal conflicts he will later describe in his books. Zagami is still at present Grand Master of the Ordo Illuminatorum Universalis who are considered by many the good side of the Vatican Illuminati and is an official association and Order now based in Florence (Italy) and are no longer associated since 2008, with the Montecarlo Lodge known also a the Masonic Executive Committee (MEC).
In 2006, he started a small blog that quickly became popular on the web concerning his direct involvement with the New World Order and the Secret Societies commonly known as the "Illuminati" and with the help of his journalist friend Greg Szymanski who worked years before in Rome he was the first to expose the scandals that are now clearly evident in the Vatican hierarchy. In doing so, Zagami put his own life at risk and got accused of espionage in Norway after a now very popular interview with Project Camelot. Between 2009 and 2014 Zagami became also known as an author in Europe and in Japan where he published 12 books that sold over 60 thousand copies in Japan, two of which were co-written with Benjamin Fulford and another two co-written with Princess Kaouru Nakamaru based on a variety of subjects that go from history of the secret societies and the Vatican, to geo-political matters concerning the New World Order. He started publishing in Italy in 2012 with the release of a 1,500 page trilogy called "Le Confessioni di un illuminato" entering the charts of the best-selling books in this country with all three of these highly controversial masterpieces, and creating with the release of volume three in November 2012, a book dedicated to espionage, Knights Templars and Satanism in the Vatican what some say might have become one of the main reasons for the abdication of Pope Ratzinger due to is accurate documentation and revelations.
Zagami has been involved with the production of documentaries for the English web tv ENIGMA TV and now appears regularly on the popular Italian tv show "Mistero" on Italia 1 and in numerous conferences and seminars around Italy. In 2013, he was also involved in the Italian elections but having failed to reach the necessary votes, he went back to writing and published another two books in Italy that year, one on the new pope that inspired what is now his first release for the US market and the other on the Alien/UFO subject. He has also collaborated in 2013 with well-known Italian journalists Ferruccio Pinotti and Giacomo Galeazzi in drafting a chapter of their recent Best Seller "Vaticano Massone" that came out in May 2013, dedicated to the secretive world of Vatican Freemasonry. And in 2014 Leo came to the USA where he as finished writing a new book on the occult sides of music, the Illuminati and Hollywood coming out in November 2014 in Italy. Leo Lyon Zagami currently has a five-book deal with CCC Publishing.